Channel Integrator Architecture
Channel Integration Architecture is the ability of a system to integrate multiple communication media for data or resource manipulation, an omni-channel system must be able to adapt new resources and channels as they become more important and recognized as reliable information management means.
Lynn through its connectors and communication resources allows to give to developments and ancillary systems the omni-channel characteristic opening the door to a bigger and more extensive source of information intake. Lynn adds value to your conversations implementing strategies that contemplate the use of multi-channel mechanisms, managing interactions with social networks and conversational engines extending the capacity of your social channels.
Channel Integrator Architecture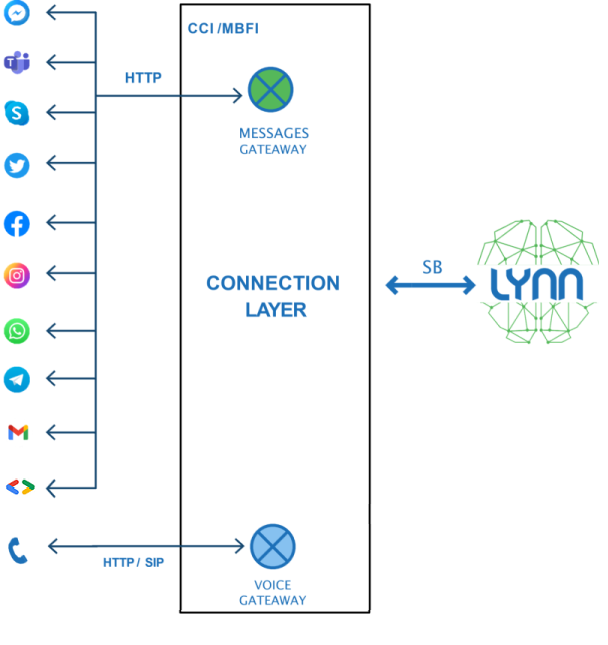 Channel Details
Channel integration is one of the main functions of Lynn as an integration framework. Conceptually, all messaging transaction resources connected to Lynn are established as communication channels. However, data ingestion channels oriented towards interactions are usually the main focus and have their own space in Lynn's designer. In that sense, we can identify those channels oriented towards chat transactions and social media.
Available Channels:
Whatsapp
FacebookMessenger
FacebookComents
InstagramComments
InstagramDirect
Chat
Teams
Email
Skype
SMS
GoogleBussiness
Slack
Telegram
DirectLyne
TwitterDirect
TwitterMention
DirectLineSpeech
GroupMe
Kik
Line
Cortana
SkypeVoice
❗ Warning ❗ It is crucial to keep in mind that incorporating a channel with the same configuration in both the testing and production environments can lead to a serious conflict. For example, if the same WhatsApp number is used in both environments.